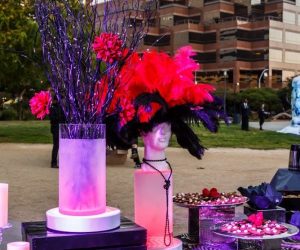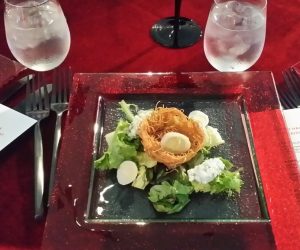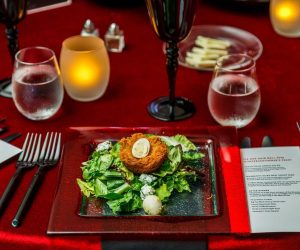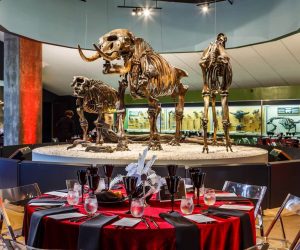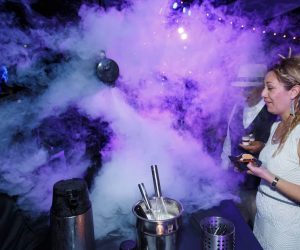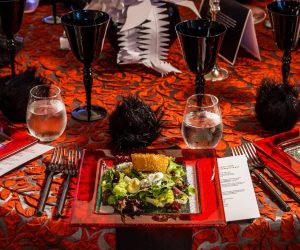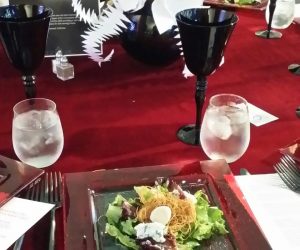 Ice Age Hair Ball Gala for the La Brea Tar Pits
Mammoth Hair Styles? Mammoth Bones? When Production Elements and the Natural History Museum of Los Angeles asked us to create a menu for the biennial Ice Age Hair Ball Gala raising funds for the La Brea Tar Pits, we couldn't wait to get started! The VIP dinner for 300 was served under the giant mammoth skeleton inside the La Brea Tar Pits Museum. Dinner was followed by "The Mane Event", a dark-carnival themed dessert and dance party outside where 600 costumed party-goers compete for Best Hair.
To compliment the Ice Age theme, LA Spice created a hunter-gatherer menu for the VIP dinner. Field Green Salad with Homemade Herbed Ricotta Cheese and Quail Egg nested in Crisp Phyllo. Mammoth-Sized Beef Short Ribs braised in Cabernet…described by the Hollywood Reporter as "Flintstones-like bones crossed like swords on each plate". https://www.hollywoodreporter.com/news/tresses-reach-new-heights-at-899781
Sweets at the "Mane Event" were Dark-Carnival themed, including Black Cherry Panna Cotta, Caramel Apple Mini Cupcake Pops, S'mores Cookies, Oreo Cheesecake Bars and more.
Kudos to the teams at Production Elements and the Natural History Museum for creating this amazing party and surpassing their fundraising goals! As the Huffington Post said… the "Ice Age Hair Ball has to be one of the top 10 events held in L.A." http://www.huffingtonpost.com/hoyt-hilsman/ice-age-hair-ball-at-la-b_b_10326090.html
http://www.latimes.com/fashion/la-ig-tar-pit-hair-ball-20160531-snap-story.html
LA Spice has been voted the Best Catering Company Los Angeles from 2011 through 2019 by readers of The Daily News!
VIP SIT-DOWN DINNER
6:30 pm to 8:00pm
300 guests
FIRST
Ice Age Salad
Field Greens, Quail Eggs, House Made Ricotta
Quail Egg Kataifi Nests
Individual Lemon Vinaigrette
MANE
Cabernet Braised Short Rib Mammoth Bones
Seared Herb Ricotta Polenta Cake
Grilled Broccolini
VEGETARIAN MANE
Maize Crusted Fresh Mozzarella Arepas
Herb Ricotta Polenta Cake
With Sauteed Snap Pea, Asparagus, Zucchini & Shallot
Tomato Garnish
VEGAN MANE
Herb Polenta Cake
With Sauteed Snap Pea, Asparagus, Zucchini & Shallot
Tomato Garnish
DARK CARNIVAL — THE MANE EVENT
8:00 pm to 11:00 pm
600 Guests
SWEET LITTLE BITES BUFFET
 Black Cherry Panna Cotta
Caramel Apple Mini Cupcake Pops
Chocolate Truffle Brownie Bites
S'mores Cookies
Oreo Cheesecake Squares
Tangy Lemon Bar Bites
NITRO ICE CREAM STATION