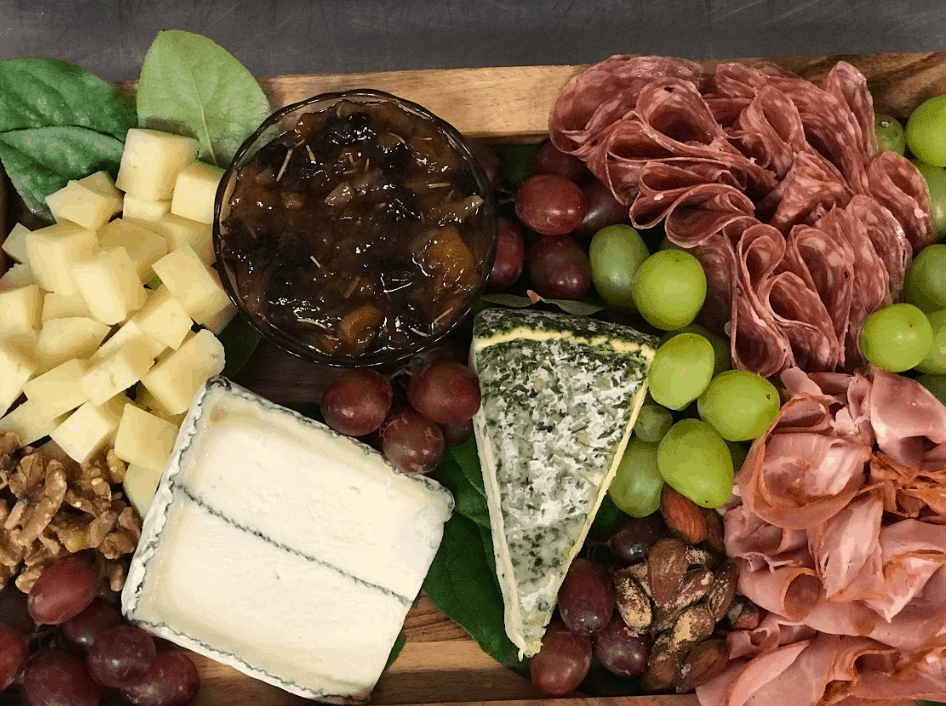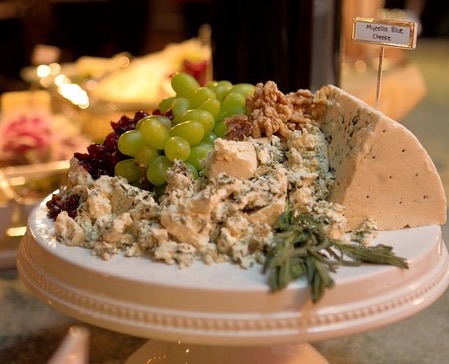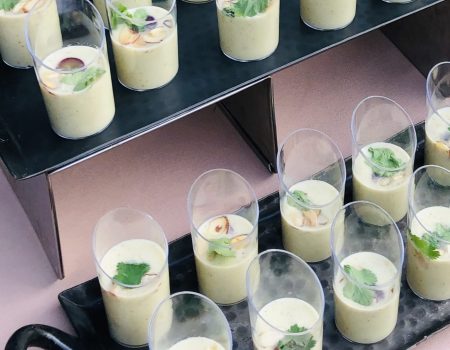 Networking?
Bringing people together to connect and  meetup? Let us help you bring old-fashioned "social" back to networking with these menus that are easy to eat while you're building relationships.   Perfect for panel discussion education events, product launches, cocktail receptions, training sessions, employee appreciation and retirement parties.  
The Farmers Market Table
Lavish Display of California Cheeses and Charcuterie with Dried Fruits and Assorted Nuts
Fresh Seasonal Fruit and Vegetables 
Array of Gourmet Dips, Spreads, Compotes and Tapenades Artisan Breads, Crostini, Pita Crips, Gourmet Crackers, and Parmesan Crisps
A Mediterranean Buffet
Spiced Beef Tip Skewers, Avocado Tahini gf
Pearl Mozzarella, Strawberry, Mint Skewers, Balsamic Drizzle v, gf
Saffron Chicken Skewers with Mint Labneh gf
House Made Herb Ricotta Cheese Beautifully Surrounded with Balsamic Roasted Cherry Tomatoes & Basil
Served with Crostini Parmesan Crisps v, gf  Spiced Cauliflower Pancakes vg, gf   Soft Pita Triangles vg
Root Vegetable Chips — Beet, Sweet Potato, Potato vg, gf 
Olive and Caper Tapenade, Eggplant Caviar, Roasted Beet Hummus vg, gf
Feta and Dried Chili Puree v, gf
A Caribbean Buffet
Shrimp Mojito Skewer gf  
Caribbean Beef Empanadas, Tomatillo Salsa
Jamaican Jerk Chicken and Vegetable Skewers, Mango Salsa gf
Plantain Tostones, Caviar, Crema Fresca gf
Gaucho Flatbread
Skirt Steak, Chimichurri, Shaved Parmesan
White Gazpacho Shooters, Almonds, Grapes v, gf
Root Vegetable Chips — Beet, Sweet Potato, Potato vg, gf 
Exquisite Crudites  — Seasonally Fresh Vegetables, Cilantro Chili Yogurt, Spicy Black Bean Hummus vg, v,gf
A California Eclectic Buffet Menu  
Brown Sugar-Ginger Chicken Skewers gf
Grilled Shrimp, Fermented Chili Cocktail Sauce gf  
Beef Tip Skewers, Chimichurri Sauce
Fresh Watermelon Skewers, Cotija Cheese, Mint, Serrano Vinaigrette  v, gf  
Layered Goat Cheese Torta — Creamy Goat Cheese, Apricot Chutney, Pistachios, Crostini v
Caramelized Acorn Squash, Ginger Chick Peas vg, gf
Root Vegetable Chips — Beet, Sweet Potato, Potato vg, gf 
Farmers Market Dip Trio vg, gf  
Carrot Miso Tahini Dip, Cauliflower White-Bean Hummus, Kale Walnut Pesto with Crudites Vases, Spiced Potato Wedges
Sweet Bites Selections
Outrageous Fudge Brownies
Fresh Fruit Tarts
Dulce de Leche Cheesecake Bites
Flourless Chocolate Cake Bites gf
Lemon Meringue Kisses
Banana Pudding Tarts
Chocolate Avocado Pudding Shots vg, gf  
Kahlua Chocolate Cake Pops
Baileys & Cream, White Chocolate Cake Pops
v: vegetarian | vg: vegan | gf: gluten-free
For more great networking event ideas and delicious catering in Los Angeles and the surrounding areas, please call LA Spice at 424.500.2125.
Named the Best Catering Company in Los Angeles for 2014, 2015, 2016, 2017, 2018, 2019 by readers of the Daily News!