Holiday Catering Menu Ideas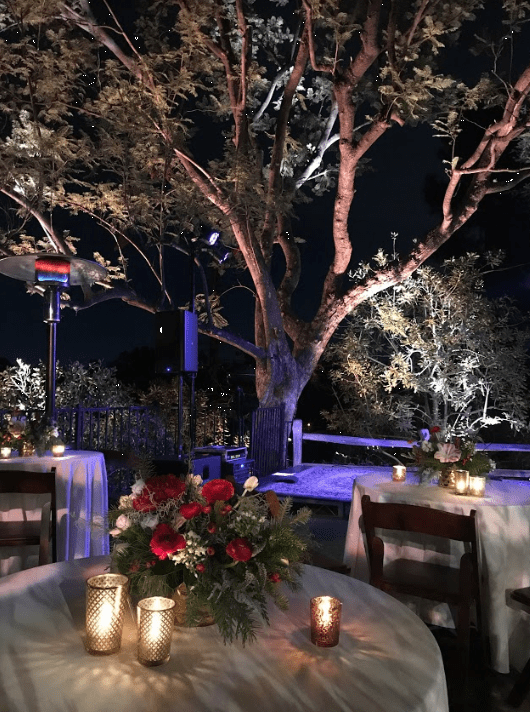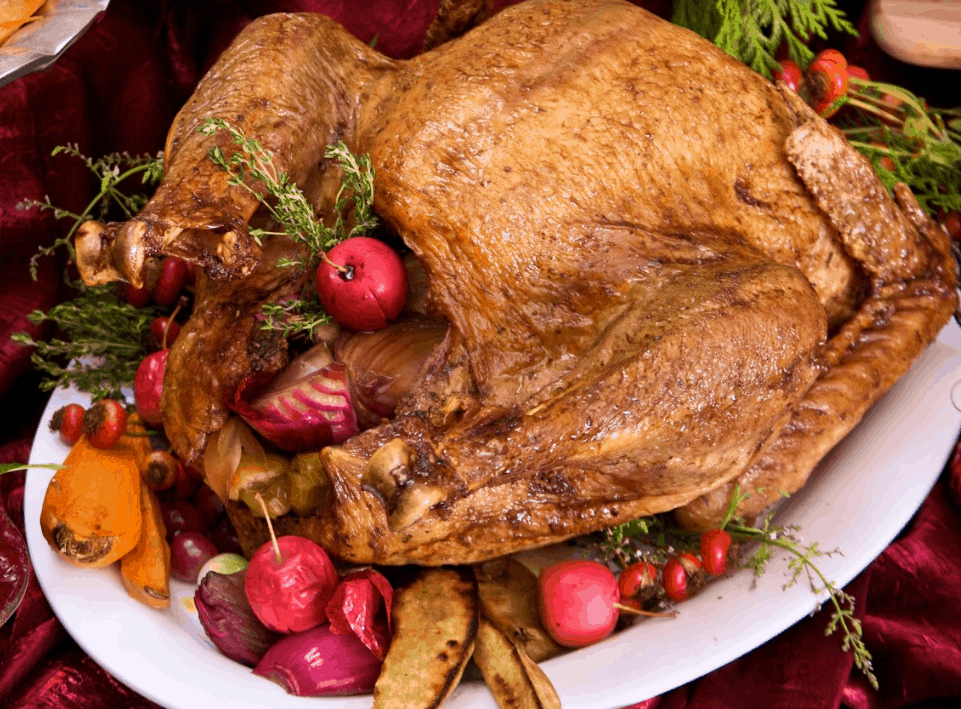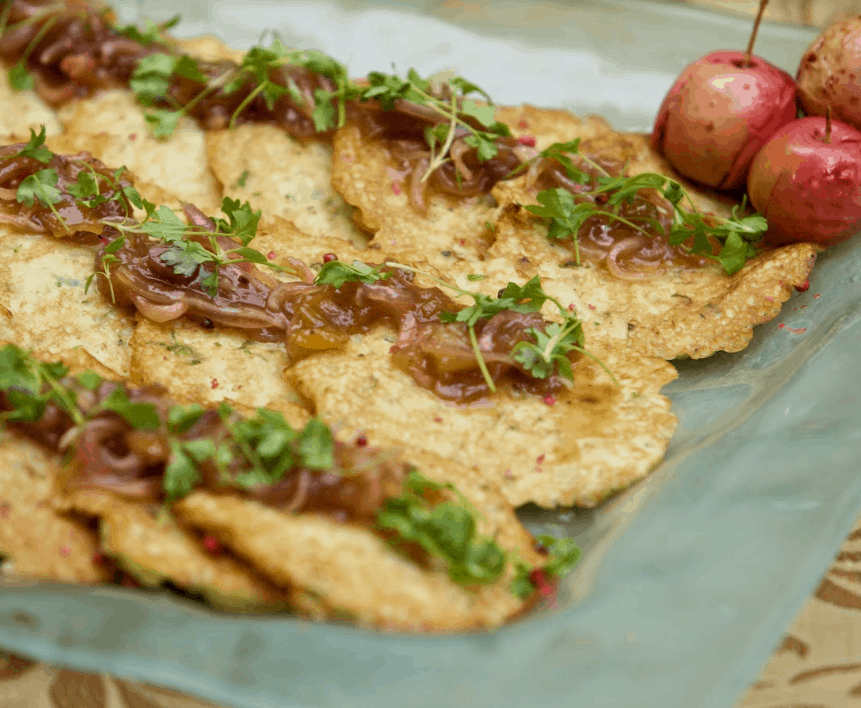 Charred Tri-Tip with Warm Apple & Danish Bleu on Sweet Potato Button gf
Warm Artichoke Parmesan Onion Toasts v
Tempura Cauliflower with Sesame Soy Dip v
Tomato Basil Soup Demitasse with Sharp Cheddar Mini Melt vg
Kobe Beef Sliders, Cognac Caramelized Onions & Garlic Aioli on Brioche
Tokyo Tacos with Spicy Tuna Tartare, Chives & Wasabi Cream
Grilled Goat Cheese Sandwich with Cranberry Walnut Olivada v
Parmesan & Horseradish Potato Croquettes, Curry Carrot Yogurt v
Mini Short Rib Sliders with LA Spice's Intense Horseradish Sauce (+2)
Smoked Salmon & Herb Mascarpone on Cucumber gf
Butternut Squash & Black Bean Quesadilla, Avocado vg
Blackened Salmon Corn Tacos with Pickled Golden Corn Salsa and Lime Crème Fraiche gf
Herb Beef Tenderloin on Parmesan Crisp with Green Peppercorn Aioli gf
Roasted Butternut Squash, Pomegranate & Ricotta Crostini v
Lobster Avocado Toast Bites
Martini Shrimp Skewers with Green Martini Olives & Pink Vodka Dipping Sauce gf
Grilled Lamb Lollipop with Pistachio Mint Pesto gf (+2)
Blackened Shrimp Skewers with Chipotle Aioli gf
Mini Crab Cakes with Smoky Onion Remoulade
Mini Chive Potato Pancakes with Sour Cream & Spiced Apple Chutney
v: vegetarian │ vg: vegan │ gf: gluten-free
A Cocktail Buffet
Short Rib Sliders with LA Spice's Intense Horseradish Sauce
Maple Pecan Crusted Chicken Skewers with Spicy Maple Dipping Sauce gf
Polenta "Crostini" with Sherried Wild Mushrooms vg gf
Gravlax Board
House-Made Pink Peppercorn & Dill Gravlax, Whipped Butter, Dill Mustard Sauce, Capers,
Chopped Onions, Pickled Cucumber, Rye Crackers, Pumpernickel Bread
Roasted Butternut Squash Hummus
Root Vegetable Chips including Red Beet, Sweet Potato & Russet Potato vg gf
Spinach & Walnut Salad Mini Bowls with Crispy Bacon, Apple, Warm Bacon Vinaigrette
Cranberry Almond Phyllo Baskets
Bite Sized Cinnamon Apple Pies
Chocolate Hazelnut Torte Bites
A Fork-Food Buffet
Carvery:
Baked Ham with Sweet Southern Mustard Sauce & Cranberry Orange Compote gf
Grilled Chipotle Chicken with Chipotle Aioli gf
Rosemary Rolls and Country Biscuits
Pumpkin & Butternut Squash Coconut Curry Small Bowls with Jewel Rice vg gf
Condiments of Pepitas, Toasted Coconut, Dried Cranberries, Golden Raisins,
Chiles, Green Onions & Red Chili Flakes
Roasted Brussels Sprouts, Toasted Hazelnuts, Hazelnut Vinaigrette vg gf
Roasted Cranberry, Goat Cheese & Arugula Flatbread v
Spinach Salad with Fennel, Pomegranate, Orange, Jicama & Apple, Champagne Vinaigrette vg gf
Eggnog Cheesecake Bars
Chocolate Caramel Pudding Shots
Lemon Meringue Tartlets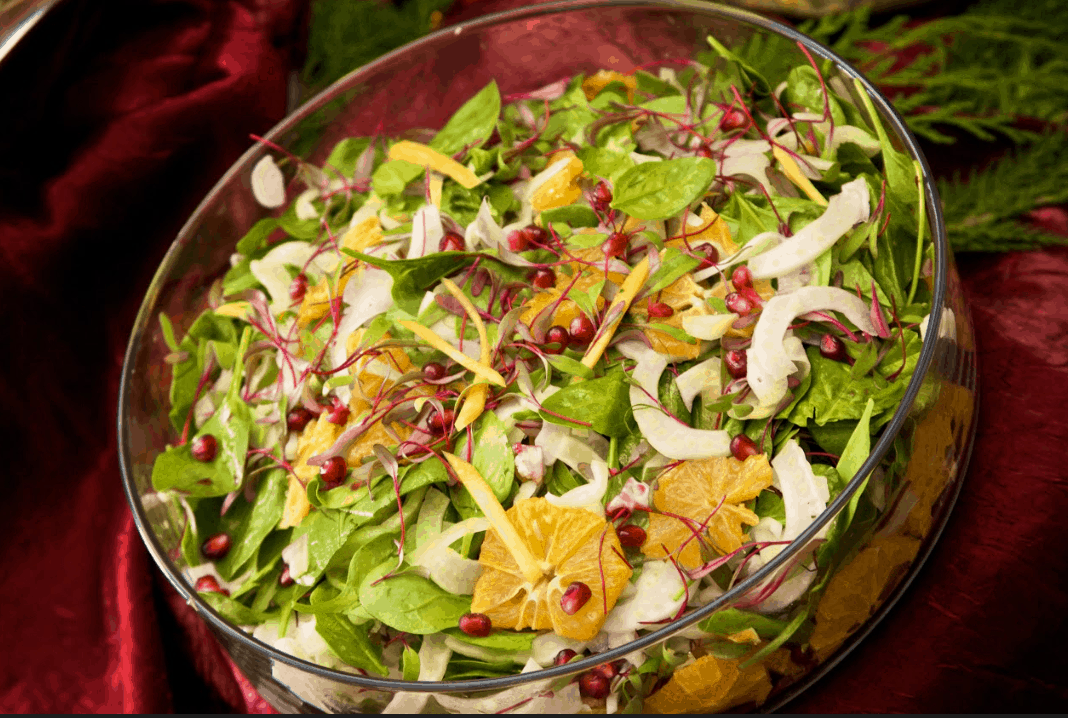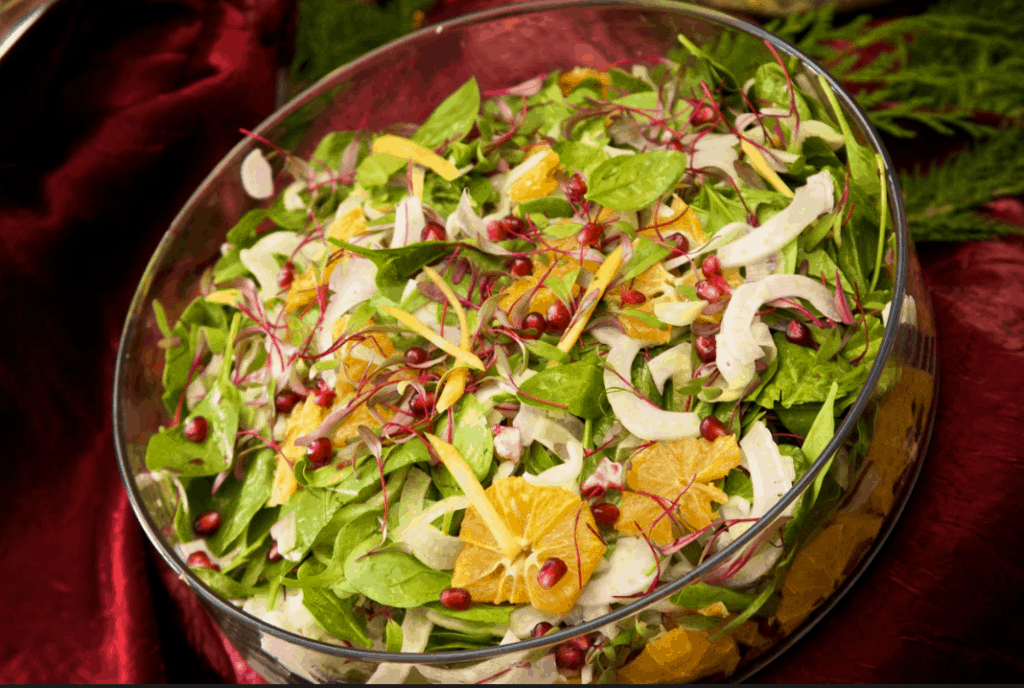 Seared Sea Bass, Ginger Sesame Soy Sauce
Beef Tenderloin with Roasted Shallots, Bacon & Port Wine Sauce
Potato & Celery Root Mash
Garlic Roasted Butternut Squash
Slow-Roasted Cauliflower
Grilled Asparagus, Gremolata
Winter Pear Salad, Roasted Pears, Mixed Greens, Point Reyes Blue Cheese,
Candied Pecans, Roasted Pear Dressing
Fresh Baked Parker House Rolls, Whipped Butter
Caramel Apple Bread Pudding with Caramel Bourbon Vanilla Sauce
Chocolate Hazelnut Torte
Dreaming of a White Christmas
Holiday Dinner
Prime Rib with Herb Au Jus
Cider Glazed Roast Turkey, Apple Cider Gravy
Corn Bread Stuffing with Butternut Squash, Onions & Pecans
Garlic Mashed Yukon Gold Potatoes
Balsamic Brussels Sprouts with Orange & Crispy Bacon
Cranberry Citrus Sauce
Spinach, Pear & Bacon Lardons Salad with Shallots & Dijon-Sherry Vinaigrette
Artisan Rolls & Butter
Winter Pear Tart with Vanilla Bean Custard Sauce 
Chocolate Toffee Cake with French Buttercream and Burnt Caramel Sauce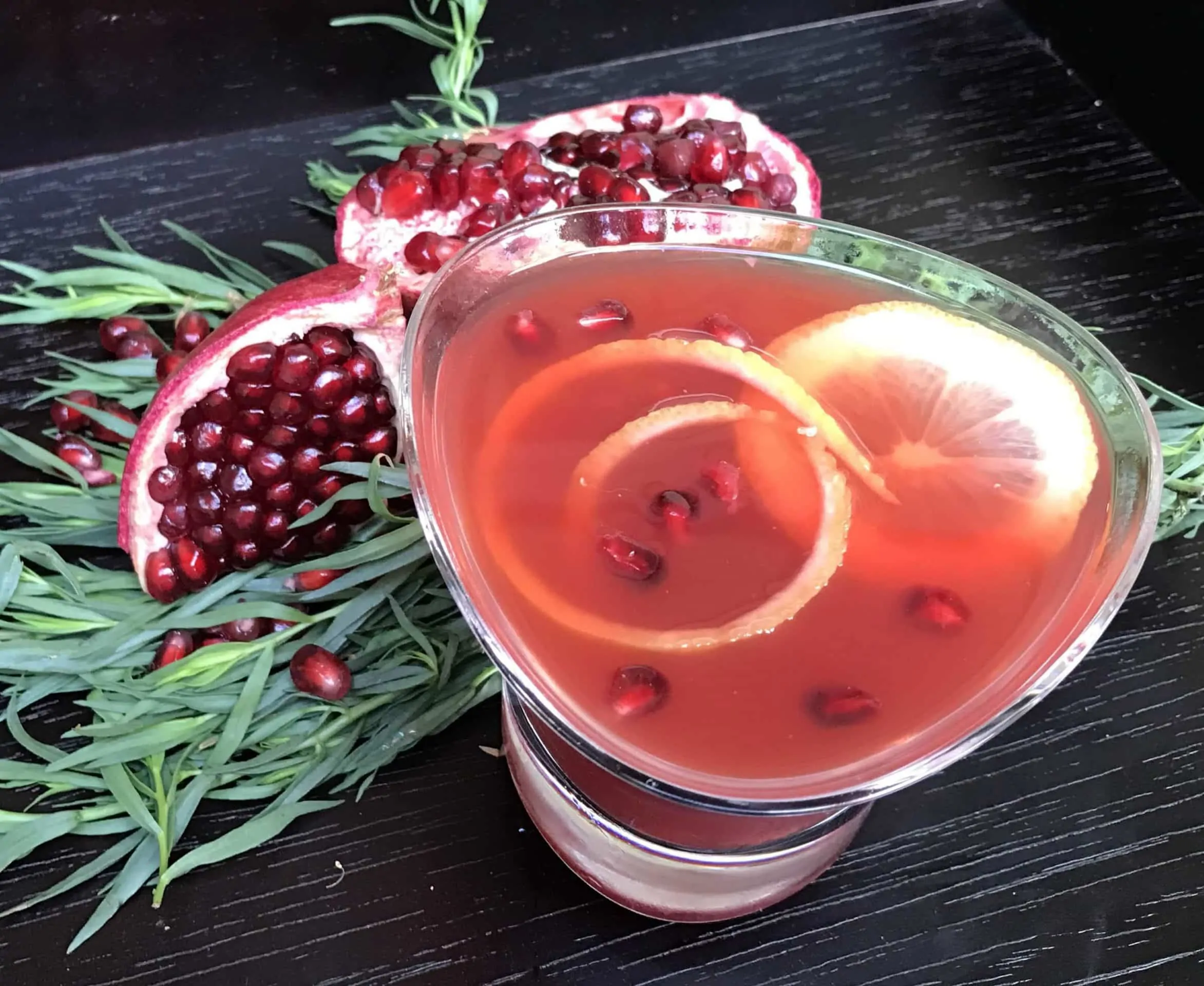 Root Vegetable Chips including Red Beet, Sweet Potato & Russet Potato vg gf
Tempura Cauliflower with Sesame Soy Dip
Red Wine Braised Boneless Short Ribs with Carrots
Slow Roasted Salmon with Garlic, Sage & Parsley
Traditional Latkes with Sour Cream & Applesauce
Sweet Apricot Kugel
Garlic Sautéed Green Beans
Crimson & Gold Beet Salad with Pine Nuts, Citrus, Shallots & Arugula
Challah
House-Made Donut Holes
Whipped Cream, Raspberry Jam, Chocolate Sauce
Chocolate Babka
Scrumptious Holiday Brunch
Maple Pecan Strata with Caramelized Bananas
Garden Frittata with Zucchini, Tomatoes, Onion, Mozzarella, Parmesan
Crispy Bacon
Chicken Apple Sausage
Rosemary Thyme Roasted Potatoes
Kale Salad, Orange, Dried Cranberries, Toasted Pecans with Creamy Apple Cider Dressing
Bacon & White Cheddar Scones, Cranberry Orange Butter
Blueberry Muffins, Lemon Cream Cheese Glaze
Fresh Fruit & Berries
Desserts
Caramel Apple Bread Pudding with Caramel Bourbon Vanilla Sauce
Pumpkin Tiramisu
Apple Spice Layer Cake, Caramel Swirl Icing
Chocolate Hazelnut Torte
Fudge Berry Trifle
Bananas Foster Bread Pudding with Vanilla Rum Sauce
Rustic Apple Tart, Vanilla Bean Ice Cream
Bourbon Baked Apples, Vanilla Bean Ice Cream
Bites
Peppermint Meringues
Chocolate Dipped Meringue Bites
Pecan Pie Bites
Petite Ice Cream Cones Filled with Chocolate Ganache & Raspberry
Butterscotch Pumpkin Bar with Cream Cheese Frosting
Cranberry Hazelnut Phyllo Tartlets, Lemon Cream
Black Forest Fudge Brownies
Gingerbread 
Shots
Panna Cotta Parfaits, Triple Berry Compote
Baileys & Cream Shots with White Chocolate Chip Cranberry Cookies
Butterscotch Chocolate Tulips  
Our Secret Recipe Spiced Cider
Cinnamon Sticks, Apple Slices, Maple Syrup,
Lemon & Orange Wedges, Cloves
Add:
Captain Morgan's Spiced Rum
Bulletproof Whiskey
Apple Jack
Champagne
St. Germain, Crème de Cassis
Fresh Orange Juice, Pomegranate Juice, Spiced Apple Cider,
Juicy Pears, Pomegranate Seeds
Blood Orange, Candied Ginger
Eat Drink & Be Merry
Signature Cocktail Ideas…
Cranberry Kir Royale
Champagne, Crème de Cassis, Orange Zest, Cranberries
Partridge in a Pear Tree
Vodka, Pear Nectar, Cinnamon, Nutmeg
Gingerbread Man
Fireball Whiskey, Irish Cream, Butterscotch Schnapps
Mrs. Clausmopolitan
Vodka, Triple Sec, Lime Juice, Cranberry Juice, Cranberries
Burnt Sugar Old Fashioned
Burnt Sugar Syrup, Bourbon, Orange Twist, Bitters
Blackberry Prosecco
Crème de Cassis, Prosecco, Blackberries, Lime Zest
Cranberry Margaritas
Tequila, Triple Sec, Lime Juice, Cranberry Juice
Snowball
Vanilla Vodka, Malibu Rum, Coco Lopez, Blue Curacao,
Honey, Shredded Coconut
Pumpkin Pie Martini
Vodka, Pumpkin Schnapps, Cream, Nutmeg
Lump of Coal
Black Vodka, Jägermeister, Spice, Dash of Absinthe
Strawberry Cheesecake Jell-O Shots
Give us a call for more great Holiday catering ideas or custom menus and event planning!
CHRISTMAS DROP-OFF
Order Guidelines
Call 424-500-2125 to place an order or email andrea@laspicecatering.com
Order deadline is Saturday 12/18 by 2:00pm
Delivery on Thursday December 23rd between 10am and 1:00pm
Delivery Charge $20
 Fresh Baked Parker House Rolls- 9 Per Order- $18
Salads– $44 Serves 8 guests
Shaved Brussel Sprout and Radicchio Salad with Smoked Bacon, Orange Segments, Toasted Pistachios, Pomegranate Pearls, Tossed with Honey Mustard Vinaigrette- GF
Kale Arugula Salad– Dried Cranberries, Sweet Red Grapes, Maple Walnuts, Cider Maple Vinaigrette- V/GF- Goat Cheese on The Side
Filet Mignon- All Natural Grass Feed Angus Beef – 2lbs Per Serving- $-86  
Herb And Pepper Crusted Filet Mignon with a Port Demi Glaze and Aa Horseradish Sauce on the side
Smoked Spiral Ham– 2lbs Per Order- $54
Marmalade And Brown Sugar Glazed Spiral Ham Roasted with Spiced Apple
Pomegranate Glazed Turkey Breast Stuffed with Sourdough Dressing– 2lbs Per Order – $48
Sourdough Dressing Stuffed All-Natural Turkey Breast Glazed with a Pomegranate Glaze
Finished with Pomegranate Au 'Jus
Almond Crusted Wild Salmon Fillet– 2lbs Per Order- $54
Finished with Lemon Beurre Blanc
Sides- Serves 8 Guests – $48
Organic Farmers Market Vegetables
Farmers Market Roasted Baby Nante Rainbow Carrots– With Roasted Dates, Fermented Black Garlic, Fresh Thyme, Smoked Sea Salt- V/GF
Roasted Farmers Market Purple Brussel Sprouts with Dates and Toasted Hazelnuts
Sautéed Famers Market Sprouted Cauliflower- Garlic, Roasted Shallots, Fresh Parsley, Extra Virgin Olive Oil
Sautéed Haricot Vert with Wild Leeks and Shitake Mushrooms with Fresh Thyme, Extra Virgin Olive Oil
Garlic Crème Fraise Whipped Potatoes- Roasted Garlic, Crème Fraise, Butter, Milk, Cream, Russet Potatoes. GF
Roasted Root Veggies– Sunchokes, Celery Root, Japanese Sweet Potatoes, Garnet Yams, Sweet Red Onions, Smoked Paprika, Allspice, EVOO – GF/V
Weiser Farms Roasted Fingerling Potatoes– Tossed with Fresh Herbs, Garlic, Extra Virgin Olive Oil
Holiday Desserts-
Mini Individual Christmas Yule Log – 4- $20
Large Christmas Yule Log- Serves 12- $44
**Please ask about our delicious pies and mini dessert options!