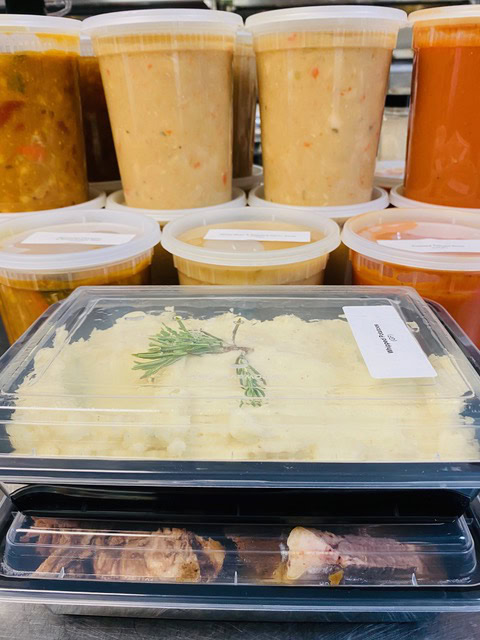 From Our Chefs to Your Table
LA Spice has joined forces with Great Taste Catering as well as several Farmers Market vendors to bring fresh and delicious pre-packaged meals to your home.   Our chefs are busy cooking up comfort food favorites to be delivered straight to your home where 
Dining in…is definitely "in"
Email order form to party2@laspicecatering.com
Call to confirm delivery: 
(424) 500-2125
    Weekly Menus – Made Fresh Daily!
 Order Schedule
Order by 7:00pm Sunday for Tuesday delivery
Order by 7:00pm Wednesday for Friday delivery
Delivery Schedule 
Current delivery days are Tuesdays and Friday. 
Delivery will occur between 11:00 a.m. and 2:00 p.m. on the day you requested.
We will occasionally have special menus with special delivery dates for holidays.
We will post those when they occur.
Week of January 18th
Grains and Greens – $23- 48oz (Serves 4)
Classic Chicken Caesar Salad with Torn Hearts of Romaine, Shaved Parmesan, Crispy Garlic Croutons (On the Side) And House Made Caesar Dressing- GF
Israeli Couscous Chickpea Salad- Radicchio, Red and Yellow Heirloom Cherry Tomatoes, Chickpeas, Green Olives, Mint, Basil, Garlic, Lemon, Olive Oil, Feta Cheese (On the Side) V Lean/Clean
Health Reboot Salads $24 (Serves 4)
These Salads are Balanced with Healthy Plant-Based Proteins, Healthy Fats and Healthy Carbs. Incorporate a Portion of One of These Salads into Your Daily Meals and Start Feeling Great!
Lemon Garlic Garbanzo Bean Salad- Brown Jasmine Rice, Spinach, Radicchio, Sunflower Seed, Hemp Seeds, Zucchini, Celery, Heirloom Carrots, Sweet Red Onion, Marinated Garbanzos (Lemon, Coriander, Smoked Paprika, Olive Oil), Preserved Lemon Vinaigrette 
Red Quinoa and Kale Salad- Torn Tuscan Kale, Red Quinoa, Diced Garnet Yams, Pumpkin Seeds, Golden Raisins, Diced Celery, Diced Yellow Heirloom Carrots, Persian Cucumbers, Green Onion, Agave Vinaigrette
Cauliflower Black Rice Salad- Garlic Herb Roasted Cauliflower, Forbidden Black Rice, Almonds, Kale, Diced Celery, Diced Red Bells, Dried Apples, Currants, Zucchini, Basil, Mint, Lite Vinaigrette
Soups and Stews- $18 Per Quart (Serves 3-4)
Butternut Squash Soup- GF/V Lean/Clean
Tortellini Minestrone Soup- Cheese Tortellini, Beans, Veggies, Tomatoes, Herbs, and Spices
Chicken Stew- Shredded Chicken Breast, Potatoes, Veggies, Herbs and Spices- GF
Comfort Food- $18- 1 Quart (Serves 3-4)
Creamy Mac and Cheese- Jack Cheese, Mozzarella, Cheddar, Milk, Butter
Beef Stroganoff- Slow Cooked Beef Tips in a Traditional Stroganoff Sauce, Button Mushrooms, Leeks, Over Egg Noodles.
Stuffed Marinated Chinese Eggplant- Black Rice, Sautéed Veggies, Ginger, Lemon Grass, Sesame Seeds, V/GF- Lean/Clean
Poultry Entrées- All-Natural Free Range Boneless/ Skinless Breast- $36 (Serves 4)
Chicken Piccata- Lemon Caper Sauce, Fresh Parsley, Chili Flakes, Garlic-GF
Grilled Breast of Chicken Topped with Roasted Cherry Tomatoes, Artichokes, Fresh Parsley, Garlic- GF Lean/Clean
Choice Angus Beef Entrees- Grass Feed Hormone Free Natural- $44- 1.75lbs (Serves 4)
5-Hour Braised Brisket- Finished with a Sweety Drop Red Pepper Relish on the Side – GF
Fish Entrée- Wild and Line Caught $45- 1.5lbs (Serves 4)
Pan Roasted Local Wild Halibut- Topped with Sautéed Artichoke, Cherry Tomatoes, Fresh Dill, Lemon Zest and Capers- GF Lean/Clean
Wild Jumbo Tiger Shrimp- Sautéed with White Wine, Garlic, Shallots, Parsley- GF
Pasta Dish- $26 – 38oz (Serves 3-4)
Truffled Wild Mushroom Ravioli- Black Truffle Shavings, Baby Peas, Roasted Garlic, Basil, Lite Sundried Tomato Cream Sauce- 
Truffled Orecchiette Tossed with Shitake Mushrooms- Baby Peas, Roasted Garlic, Sundried Tomatoes, Black Truffle Shavings, Basil, White Truffle Oil- V/ GF Option Available Upon Request.
Side Dishes- Natural $15 Per Quart
Charred Baby Zucchini with Fresh Basil, Extra Virgin Olive- GF/V Lean/Clean
Broccolini With Caramelized Shallots, Fresh Herbs, Extra Virgin Olive Oil- V/GF Lean/Clean
Sautéed Yellow Wax Beans with Leeks, Tarragon- V/GF Lean/Clean
Sage Roasted Butternut Squash with Crispy Garlic, Extra Virgin Olive Oil and Sea Salt V/GF
Roasted Sweet Potato Spears Tossed with Smoked Paprika, Lemon Zest, Garlic – V/GF
Crispy Smashed White Rose Potatoes- Fresh Rosemary, Thyme, Garlic, Olive Oil – GF
Desserts- $10
Jumbo Triple Chocolate Chip Cookies
Lemon Bars
Red Velvet and White Chocolate Chip Cookies
Oatmeal Raisin Cookies