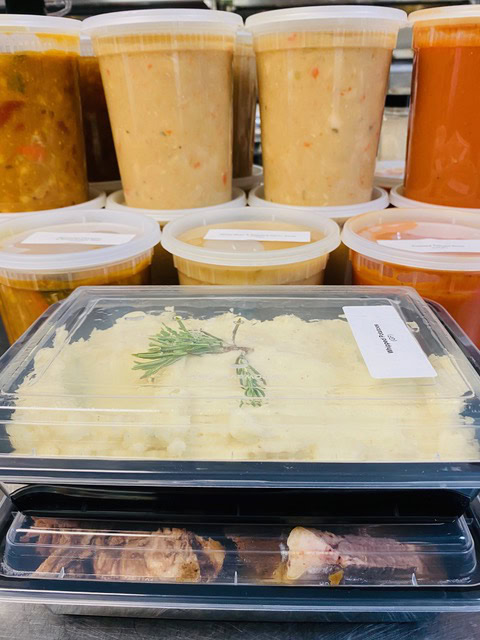 From Our Chefs to Your Table
LA Spice has joined forces with Great Taste Catering as well as several Farmers Market vendors to bring fresh and delicious pre-packaged meals to your home.   Our chefs are busy cooking up comfort food favorites to be delivered straight to your home where 
Dining in…is definitely "in"
Email order form to party2@laspicecatering.com
Call to confirm delivery: 
(424) 500-2125
    Weekly Menus – Made Fresh Daily!
 Order Schedule
Order by 7:00pm Sunday for Tuesday delivery
Order by 7:00pm Wednesday for Friday delivery
Delivery Schedule 
Current delivery days are Tuesdays and Friday. 
Delivery will occur between 11:00 a.m. and 2:00 p.m. on the day you requested.
We will occasionally have special menus with special delivery dates for holidays.
We will post those when they occur.
Week of July 13th Menu
Grains and Greens- $16 per qt (serves 3-4)
Super Greens Salad- Shaved Brussels, sweet red grapes, walnuts, cranberries, celery, shaved golden carrots, maple cider vinaigrette-V/GF (Lean/ Clean)
Summer Cherry Tomato and Baby Mozzarella Salad- Fresh basil, garlic, sea salt and extra virgin olive oil- GF
Grilled Vegetable and Quinoa Salad- Grilled veggies, sunflower seeds, tomato, endive, baby kale Agave lemon vinaigrette-GF/V (Lean/ Clean)
Summer Soups- $16 per qt (serves 3-4)
Vegan Creamy Broccoli Puree- Cashew cream-V/GF
Thai Red Curry stew- Chicken breast, chickpeas, coconut cream, lemongrass
Comfort Foods- $17 (serves 3-4)
Creamy 3 Cheese Mac and Cheese- With applewood bacon
Vegan Stuffed Acorn Squash- Impossible meat, sweet bells, caramelized onion, chickpeas, dried cranberries, basmati rice, pom pearls- V/GF (Lean/ Clean)
Italian Meatballs with a San Marzano marinara and pecorino– GF
Entree- $39 (serves 4-5) 1.75 lbs.
Citrus and Chili Roasted Boneless Short Ribs- Coriander, lime/orange zest, Chili de arbol, Black garlic, cumin, roasted onions-GF
Grilled Lamb Chops- Almond mint pesto- GF (Lean/ Clean)
Grilled Tri Tip – Finished with an Italian Salsa Verde on the side-GF Lean and clean
Poultry Entree- $29 (serves 4-5) 2 lbs.
Sweet Thai chili Glazed breast of chicken – GF (Lean/ Clean)
Grilled breast of chicken finished with preserved lemon, extra virgin olive oil, sea salt- GF (Lean/ Clean)
Fish Entree- $42 (serves 4-5) 1.75 lbs.
Grilled Mahi Mahi Filet- Finished with a grapefruit Mignonette-GF
Grilled Albacore Filet– Topped with a mango salsa- GF
Pasta Dish- $24 (serves 3-4)
Penne with Baby Peas, Applewood Bacon, Pecorino, Pine Nuts, Basil (GF available)
Artichoke Ravioli- Tossed with sun-dried tomatoes, capers, Shallots, garlic
Sides- $11 (All Lean/Clean)
Roasted Summer Veggies- Fresh herbs, extra virgin olive oil and caramelized garlic-V/GF
Seared Sugar Snap Peas- Sesame oil, ginger, garlic-V/GF
Grilled Summer Asparagus– Lemon zest- V/GF
Roasted Rosemary Red Potatoes- thyme, sea salt- V/GF
Maple Roasted Acorn Squash- Smoked paprika, Za'atar- V/GF
Roasted Garnet Yams- Tahini lime vinaigrette- V/GF
Basmati Rice- Hint of roasted garlic- V/GF
Desserts- $12 (serves 4)
S'mores Bars
Strawberry Cobbler Bars
Pecan Bar
Walnut Espresso Brownie
Taco Kit– Featuring this week – Tuesday only! 
$30- serves 4 guests-,12 corn tortillas, ½ pint of roasted tomato salsa, ¼ pint guacamole, chips, 1 qt Spanish rice, 1 qt refried beans, – taco garnish- Diced onions/Cilantro, pickled jalapeno, shredded cheddar cheese
$45 -Serves 5 to 6 guests- Includes- 20 corn tortillas, 1-pint salsa, ½ pint guacamole, chips, 1.5 quart of Spanish rice and 1.5 quart of refried beans   -Taco garnish- Diced onions/cilantro, pickled jalapeno, shredded cheddar
Proteins – A La Carte
Carne Asada-GF $16 per pound
Marinated Chicken Breast-GF- $14 per pound
Soyrizo Con Pappas (Vegan)-GF- $10 per pound