At Home Delivery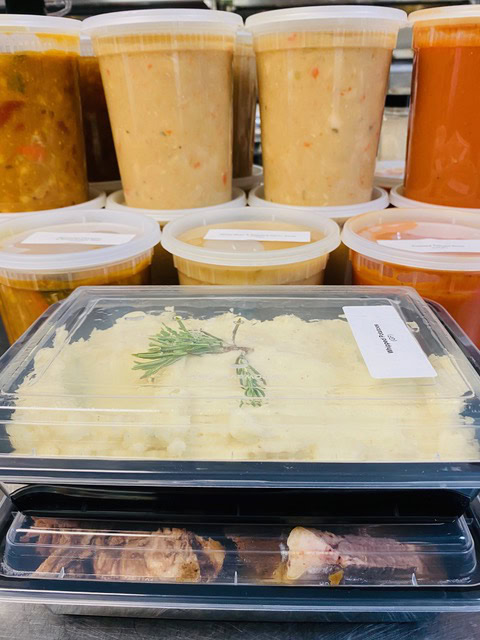 At Home Deliveries!From Our Chefs to Your Table LA Spice has joined forces with Great Taste Catering as well as several Farmers Market vendors to bring fresh and delicious pre-packaged meals to your home.   Our chefs are busy cooking up comfort food favorites to be delivered straight to your home where Dining in…is definitely "in"
Email order form to party2@laspicecatering.com
Call to confirm delivery: 
(424) 500-2125
    Weekly Menus – Made Fresh Daily!
 Order ScheduleOrder by 7:00pm Sunday for Tuesday delivery
Order by 7:00pm Wednesday for Friday delivery
Delivery ScheduleCurrent delivery days are Tuesdays and Friday.Delivery will occur between 11:00 a.m. and 2:00 p.m. on the day you requested.We will occasionally have special menus with special delivery dates for holidays.We will post those when they occur.  Week of April 19th
Grains and Greens – $23- 48oz
Lentil Kale Salad- Black Lentils, Baby Kale, Cherry Tomatoes, Dried Blueberries, Almonds, Celery, Gold Carrots, Apples, Hemp Seeds Tossed with An Agave Lemon Vinaigrette-V/GF/LC
Tofu Red Rice Salad- Marinated Tofu, Himalayan Red Rice, Broccoli Florets, Zucchini, Celery, Carrots, Sunflower Seed, Sesame Seeds, Julienned Napa Cabbage, Fresh Bok Choy, Green Onion, Tamari Vinaigrette- V/GF/LC
Reboot Salad's- Serves 4- $24 Per Salad
These Salads Are Balanced with Healthy Plant-Based Proteins, Healthy Fats and Healthy Carbs. Incorporate A Portion of One of These Salads into Your Daily Meals and Start Feeling Great.
Quinoa Chickpea Salad- Quinoa, Spinach, Radicchio, Sunflower Seed, Hemp Seeds, Zucchini, Celery, Heirloom Carrots, Sweet Red Onion, Marinated Garbanzos (Lemon, Coriander, Smoked Paprika, Olive Oil), Preserved Lemon Vinaigrette. V/GF/LC
Garnet Yam and Lentil Salad- Lentils, Roasted Yams, Baby Kale, Spinach, Celery, Carrots, French Beans, Cranberry, Walnuts, Hemp Seeds, Fresh Basil- Tossed with A Citrus Vinaigrette. V/GF/LC
Soups and Stews- $18 Per 48oz 1 Order- $9 ½ Order- 24oz 
Veggie Lentil Soup- Black Lentils, Roasted Veggies, Herbs and Spices- V/GF
Classic Chicken Noodle Soup- Egg Noodles, Shredded Chicken, Diced Veggies, Homemade Chicken Broth- Lean & Clean
3 Bean Turkey Chili– Lean Ground Turkey, Chickpeas, Kidney Beans, Black Beans, Herbs and Spices (Sour Cream and Cheddar Cheese on The Side)- GF
Comfort Food- $18- 1 Quart – (Serves 3-4)
Traditional 3 Cheese Mac and Cheese– Mozzarella, Jack and Cheddar, Cream, Macaroni.
Famous Beef Chili- Slow Cooked Ground Top Sirloin Is Blended with Chili Beans, Dried Chilies, Herbs and Spices to Make Our Famous Chili, Slow Cooked till Perfect- Onions and Cheddar Cheese on The Side- GF
Stuffed Red Bells- Roasted Corn, Red Bells, Celery, Caramelized Onions, Garlic, Vegan Impossible Meat, Basmati Rice, Topped with Roasted Tomato Sauce- V/GF
Poultry Entrées- All-Natural Free Range Boneless/Skinless Breast- $36 – 1.75 lbs
Panko Crusted Chicken Breast- Finished with Roasted Tomato Marinara.
Sweet Thai Chili Glazed Chicken Breast – Our Organic Chicken Breast Is Marinated with Ginger, Coriander Then Glazed with Sweet Thai Chili Sauce, Seared and Pan Roasted- GF, Lean & Clean
Choice Angus Beef Entrees- Grass Fed Hormone Free Natural- $44- 1.75lbs
8 Hour Slow Cooked Brisket- Our Black Angus Brisket Is Trimmed of Excess Fat Then Slow Cooked with Red Wine, Onions, Garlic, Root Veggies, Herbs and Spices- GF
Fish Entrée- Wild $45- 1.5lbs.
Almond Crusted Wild Salmon Fillet- Finished with A Lemon Zested Gremolata-   GF
Pasta Dish- $26 – 38oz – Gluten Free Option Available Upon Request
Rigatoni Bolognese- Tossed with Our Slow 4 Hour Cooked Bolognese Sauce- GF Option
Gnocchi W/Pomodoro Sauce & Mozzarella Pearls– Fresh Gnocchi Tossed with A San Marzano Marinara, Fresh Mozzarella Pearls, Basil, Oregano, Thyme.
Side Dishes- Natural $15 Per Qt
Rosemary Roasted Baby Red Potatoes- Baby Reds, Fresh Rosemary, EVOO, Sea Salt- V/GF/LC
Buttermilk Whipped Potatoes- Our Creamy Whipped Potatoes Are Blended with Buttermilk, Parsley and Garlic- GF
Herb Roasted Veggies- Assorted Veggies, Fresh Herbs, Garlic, Shallots, EVOO- V/GF-L/C
Roasted Brussel Sprouts- Hazzle Nuts, Fresh Thyme, Crispy Garlic- V/GF, Lean & Clean
Grilled Zucchini Spears- With Smoked Paprika, Oregano and Lemon Zest- V/GF, Lean & Clean
Desserts- $10
Triple Chocolate Chip Cookies
Macadamia White Chocolate Chip Cookies
Oatmeal Cookies
Taco Tuesday Menu
$35- Serves 4 Guests- 20 Corn Tortillas, ½ Pint of Roasted Tomato Salsa, ¼ Pint Guacamole, Chips, 1 Qt Spanish Rice, 1 Qt Refried Beans – Taco Garnish- Diced Onions, Cilantro, Pickled Jalapeno, Shredded Cheddar Cheese.
$48 -Serves 6 Guests- Includes- 30 Corn Tortillas, 1 Pint Salsa, ½ Pint Guacamole, Chips, 1.5 Quart of Spanish Rice And 1.5 Quart of Refried Beans   -Taco Garnish- Diced Onions, Cilantro, Pickled Jalapeno, Shredded Cheddar.
Proteins Al A Cart Sold by The Pound- All Proteins Are Free Range, Wild Or Organic.
Traditional Carne Asada- Marinated Lean Skirt Steak Grilled Over and Open Grill- $18 Per Pound.
Shredded Chicken Tinga- Roasted Chicken Is Shredded and Slow Cooked Traditional Mexican Spices, Chilis, Tomatoes, Caramelized Onions to Make the Perfect Tinga Sauce-GF- $16 Per Pound
Marinated Pollo Asada- Marinated Breast of Chicken Grilled Over High Heat- $16 Per Pound.
Soyrizo Con Pappas- Vegan Soyrizo Is Cooked with Diced Potatoes, Caramelized Onions and Spices-$10 Per Pound.

Weekly Menu PDF

Share on facebook
Share on twitter
Share on linkedin
Share on pinterest
Share on whatsapp

BACK TO
MENU IDEAS