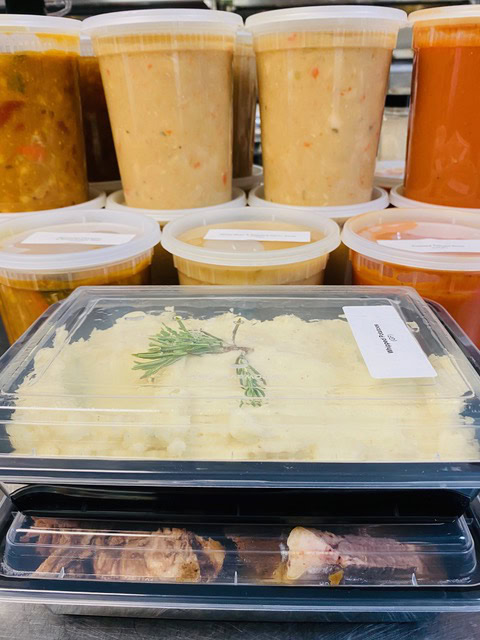 From Our Chefs to Your Table
LA Spice has joined forces with Great Taste Catering as well as several Farmers Market vendors to bring fresh and delicious pre-packaged meals to your home.   Our chefs are busy cooking up comfort food favorites to be delivered straight to your home where 
Dining in…is definitely "in"
Email order form to party2@laspicecatering.com
Call to confirm delivery: 
(424) 500-2125
    Weekly Menus – Made Fresh Daily!
 Order Schedule
Order by 7:00pm Sunday for Tuesday delivery
Order by 7:00pm Wednesday for Friday delivery
Delivery Schedule 
Current delivery days are Tuesdays and Friday. 
Delivery will occur between 11:00 a.m. and 2:00 p.m. on the day you requested.
We will occasionally have special menus with special delivery dates for holidays.
We will post those when they occur.
Week of September 28th Menu
Grains and Greens – $17 a quart (Serves 2-3)
Healthy Broccoli and Toasted Faro Salad- Florets, Faro, diced bells, dried cherries, almonds, red onion, fresh herbs agave mustard vinaigrette- V
Green Goddess Quinoa Salad– Fresh Spinach, wild greens, asparagus, baby peas, cherry tomatoes, vegan avocado green goddess dressing- V/Gf
Soups and Stews- $17 per qt (Serves 3-4)
Homemade Chicken Noodle Soup– Shredded chicken, egg noodles, carrots and celery
Veggie Lentil Soup- Black lentils, heirloom carrots, celery, garnet yams- V/GF
Comfort Food- $17 a quart (Serves 3-4)
Creamy 3 Cheese Mac and Cheese
Vegan Stuffed Santa Fe Sweet Potato- Beyond meat, black beans, roasted corn, cilantro, green onions – V/GF
Classic Chicken Pot Pies- chicken breast, veggies, puffed pastry
Poultry Entrées- $31 – (Serves 4-6)
Pan-Roasted Marsala Chicken Breast finished with wild mushrooms- GF
Lean Herb Roasted Breast of Chicken- EVOO, Sea Salt, Garlic, parsley, thyme, rosemary- GF
Beef Entrees- $39 (Serves 4-5)
Grilled Flank steak- Red chimichurri sauce- GF
Fish Entrée – $41 serves – (Serves 3-4)
Miso Glazed Salmon Filet- Black sesame seeds, green onions, cilantro- GF
Pasta Dish- $26 – (Serves 3-4)
Linguini Shrimp Scampi- Garlic, Shallots, white wine, tiger shrimp, lemon zest – GF option available
Penne Vegan Bolognese – beyond meat Italian sausage, San Marzano tomatoes, roasted garlic
V/GF option available
Side Dishes- $13 per qt
Sautéed French Beans- Caramelized garlic and Vidalia onions- V/GF
Roasted Fall Veggies-Fresh herbs, olive oil, sea salt- V/GF
Rustic Mashed Red Potatoes – Buttermilk, roasted garlic, sea salt- GF
Rosemary Roasted Yukon Gold Potatoes– EVOO, Sea Salt- V/GF
Desserts- $12 (Servers 4)
Espresso Brownie with Walnuts
Crème Brulee bars
Berry Cheesecake Bars
Lemon Bar