Summer Peach Party
---
 

 It's that time of year again: stone fruits are in season, and we're crazy about peaches.   


From their alluring sweet smell, their gorgeous hue, to their candied taste, they are the quintessential summer fruit.   


Their triple-threat qualities are our prime inspiration for a summer party theme.   


Summer-inspired, youthful, airy, and feminine, the event is decorated in peach, yellow, rose, and cream. The peaches are the centerpieces in the decor, displayed in baskets, glass bowls, or vases, giving off their appetizing sweet smell. The event takes place outdoors, decorated by summer's bounty of peach-colored flowers and greenery.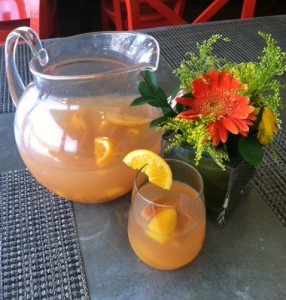 Sample Menu:
 
 LA Spice Cafe's special Summertime Peach Sangria
Sugared pureed fresh and luscious white peaches with Riesling, triple sec, peach schnapps, coconut syrup, and fresh vanilla bean  


Peach Caprese
Layered sliced freestone peaches, burrata cheese, prosciutto, and basil drizzled with olive oil and balsamic vinegar   


Grilled Peaches
Halved yellow peaches, served alongside honey grilled salmon or chicken   


Peaches and Cream
Sliced donut peaches and homemade cream, served in a martini glass   


---
---