Crisp Alert
---


  This has been a hot topic in the office today:


"What is an easy and delicious something to bring to the 4th of July Party I'm attending tomorrow?" 

 


 We say easy as pie! Or should we say, easy as crisp! 




 Crisps are simple. 


All you need is some fruit, butter, flour, oats, sugar, and an oven. 

 
And you can even use red and blue berries and serve it with vanilla ice cream to make it patriotic! 


Executive Chef Joachim and Cafe Manager Chiara from LA Spice Cafe recommend some easy crisps you can make for the 4th, or any time of the year. 

 


Cafe Manager Chiara recommends her grandmother Carolyn's Crisp Recipe.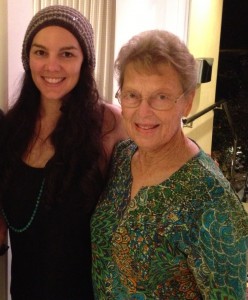 "I've used this recipe a lot, especially back when my husband and I started dating and we wanted a sugar-free and gluten-free easy and delicious recipe. The sugar can be subbed with honey, agave syrup, stevia, or brown sugar. The oats and flour can be gluten free.  I've found that stone fruit, apples, and berries work best. " 


 Grandma Carolyn's Crisp Recipe 

 
FILLING:
-4 lb fruit (cored, sliced in 1-2″thick chunks) or whole berries
-1/2 cup sugar (can sub sugar alternative, like honey, agave, brown sugar, stevia)
-1 tsp Cinnamon
Optional:  Add 1 tbsp of freshly squeezed orange/lemon juice & 1tsp orange/lemon zest
TOPPING:
-1 cup old fashioned oats (can substitute Gluten Free Oats)
-1 cup all-purpose flour (can substitute Gluten Free Flour Mix)
-1 tsp cinnamon
-1/2 cup granulated sugar
-1/2 cup brown sugar
-2 sticks unsalted butter, diced
DIRECTIONS:
Once fruit has been washed and sliced, put it in a bowl.  Sprinkle fruit with 1/2 cup sugar and mix.  Once mixed, pour fruit into a 9×13 casserole dish.
Mix all dry topping ingredients (not butter) in a bowl.  Then add in the butter and mix until you have large crumbles of dough. Sprinkle the top of the fruit with the crust mix, covering evenly and lightly pad it down.
Bake at 350 degrees for 50 minutes or until crust on top is golden-brown and the fruit is bubbly.  Let it cool for 1 hour.
Best served warm with Vanilla Bean Ice Cream or Vanilla Bean Freshly Whipped Cream and sprinkle each serving with a little powdered sugar.  Enjoy!
"Crisps should be made with two types of fruit, for added color and texture. I like to add something special that combines well with the fruits, such as lavender, or the cardamon used in this recipe. This is a recipe that always impresses. I like to add Raspberry Schnapps, for added color and aroma. " 

 
Nectarine-Raspberry Crisp with Spiced-Oatmeal Crumb Topping 


-2 lb or 5 cups of nectarines (halved, pitted, cut into 3/4-inch-thick slices)
-1 1/2-pint container fresh raspberries
-1/4 cup sugar
-2 tbsp cornstarch
TOPPING:
-3/4 cup all purpose flour
-3/4 cup quick-cooking oats
-1/4 cup sugar
-1/4 cup (packed) dark brown sugar
-1/4 teaspoon (generous) ground cinnamon
-1/4 teaspoon salt
-1/8 teaspoon (generous) ground cardamom
-6 tablespoons (3/4 stick) unsalted butter, melted, cooled slightly
DIRECTIONS:
Mix flour, oats, sugar, brown sugar, cinnamon, salt, and cardamom in medium bowl. Add melted butter and rub in with fingertips until mixture comes together in small clumps. Can be made 1 day ahead. Cover and refrigerate.
Position rack in center of oven and preheat to 375ºF. Butter 11x7x2-inch glass baking dish. Combine nectarines, raspberries, sugar, and cornstarch in large bowl; toss to blend. Transfer mixture to prepared baking dish. Sprinkle topping evenly over fruit. Bake until fruit mixture is bubbling thickly and topping is golden brown, about 50 minutes. Cool 20 minutes
Serve warm with vanilla ice cream.
Drop us a line – did these crisps work out for you?
---
---