Natural History Museum Event
September 14, 2015
Last week we were thrilled to cater a VIP event at the museum and get a sneak peak at the highly anticipated exhibit!  The Natural History Museum's newest exhibit, Mummies: New Secrets from the Tombs, features beautifully preserved mummies and artifacts from Egypt and Peru
The exhibit does an amazing job of showcasing ancient Egyptian and Peruvian cultures along with the Mummies, and our menu and decor did the same! We spiced up the event with authentic Egyptian and Peruvian flavors with guests enjoying authentic regional dishes such as delicious falafel with tatziki sauce and Peruvian empanadas. The decor would not be complete without this traditional Anubis statue, the Egyptian Protector of Graves, and rare Egyptian silk fabric draped on the buffets!
To learn more about the exhibit visit The National History Museum's website!
---
Pagani Event
July 25, 2014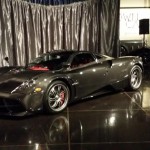 We're very excited to share some photos and a video from the Pagani event catered by LA Spice last week. Held at the Petersen Automotive Museum, the event showcased the rare Italian "bespoke" Pagani Huayra. The catering reflected the Italian, hand-crafted theme through a luxurious Italian Crudo Bar with action chefs creating small plates, made to order, and sleek, modern décor adorning the room. Car enthusiasts were also served delicious appetizers as they enjoyed the sights and as they traveled around the room, they could indulge in desserts at a beautiful, decadent chocolate station and even have freshly rolled cigars. You can relive this elegant night through this video created by Pagani or through pictures of the event here:
Video Link:
https://www.youtube.com/watch?v=7tXeUKr0Gsw
For more fun party pictures, supplied by The Auto Gallery, please check out the link below…….
https://picasaweb.google.com/116705746259411591994/PAGANIATTHEPETERSON?authkey=Gv1sRgCPTt4O21j5n9Fw&feat=directlink#
---
A Gluten Free, Sugar Free Baby Shower?
August 7, 2013
Yes, it is possible!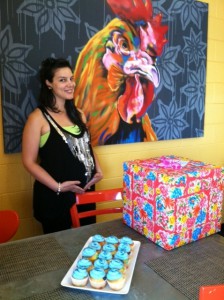 We catered a baby shower for our cafe manager Chiara last weekend, who is gluten and sugar free.


Although it sounds like an impossible trio, having a baby shower with only gluten and sugar free options is possible!

We made Chiara a superhero themed watermelon and fruit cake. The only ingredient? Fruit!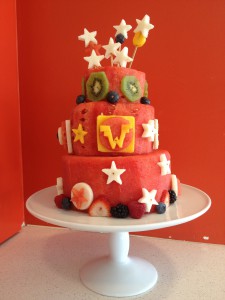 We also served owl chocolate cupcakes to align with the baby shower's owl theme. Gluten free flour was the base, and no refined sugar was in the cupcake or frosting, only agave. Using nuts to create the owl face was a perfect gluten and sugar free addition!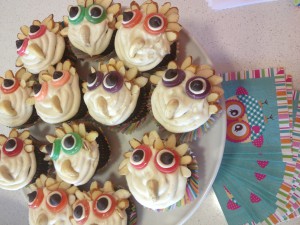 Add some delicious gluten and sugar free small bites, and you've got yourself a party.
---
Summer Peach Party
May 29, 2013
 

 It's that time of year again: stone fruits are in season, and we're crazy about peaches.   


From their alluring sweet smell, their gorgeous hue, to their candied taste, they are the quintessential summer fruit.   


Their triple-threat qualities are our prime inspiration for a summer party theme.   


Summer-inspired, youthful, airy, and feminine, the event is decorated in peach, yellow, rose, and cream. The peaches are the centerpieces in the decor, displayed in baskets, glass bowls, or vases, giving off their appetizing sweet smell. The event takes place outdoors, decorated by summer's bounty of peach-colored flowers and greenery.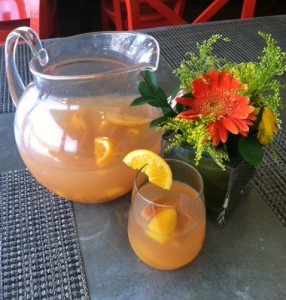 Sample Menu:
 
 LA Spice Cafe's special Summertime Peach Sangria
Sugared pureed fresh and luscious white peaches with Riesling, triple sec, peach schnapps, coconut syrup, and fresh vanilla bean  


Peach Caprese
Layered sliced freestone peaches, burrata cheese, prosciutto, and basil drizzled with olive oil and balsamic vinegar   


Grilled Peaches
Halved yellow peaches, served alongside honey grilled salmon or chicken   


Peaches and Cream
Sliced donut peaches and homemade cream, served in a martini glass   


---
African Theme Catering Event
May 3, 2013
When it came down to choosing a theme for a dinner and cocktail reception for a leading furniture design and production company, we looked no further than the event's location for theme inspiration.
Since the African Mammal Hall at the Natural History Museum was the location of this Annual Awards Gala, we decided on an African theme.
The Setting –
An impressive wall-to-wall diorama of African elephants and animal exhibits surrounded the seated guests at the NHM venue.
Our servers were dressed as safari guides, wearing khaki pants, white polo shirts, and pith helmets.
We used outdoor elements such as bamboo leaves, flowers, and wood for our appetizer plates and table set design.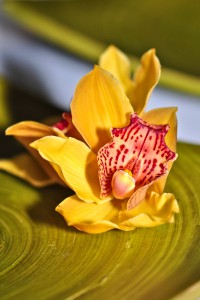 The Menu –
We offered an eclectic African themed menu, highlighting the delicious cuisines from North, East, West, and South Africa.
Our menu highlighted common herbs, spices, produce, and meats from Africa, such as orange, saffron, mint, mango, ostrich, cous cous, moroccan spices, and yogurt.
Tray-Passed Hors D' Oeuvres – 5 Flavors
Moroccan Scented Grilled Meatballs with Paprika, Garlic, Onion, Mint, and Cool Yogurt
Cucumber Cones with Spicy Dungeness Crab Salad, Saffron Crème
Durban Samosas with Curried Potato & Pea Crunchy Pastry Triangles Served with a Mango Atchar
Curried Coconut Chicken Salad in Phyllo Cups
Flash Fried Pampoenkoekies (Pumpkin Fritters) with Spicy Mango Salsa
Sit Down Plated Dinner
1st Course – Salad (Pre-Set)
Medjool Date and Mixed Green Salad with Feta Cheese, Toasted Marcona Almonds, Pomegranate Molassas And Honey Dressing
2nd Course – Main Entree
Moroccan Chicken Tagine: Braised Chicken with Saffron, Preserved Lemon, Garlic, and Olives with Steamed Citrus Cous Cous
Oven baked Sea Bass in Aromatic Chermoula Sauce with Baked Potatoes, Bell Peppers and Tomatoes
2nd Course – Vegetarian Main Entree
Vegetable Barley Cous Cous
Squash, Cabbage, Turnips, Chick Peas, Almonds and Fiery Harissa Spice Mix
3rd Course – Dessert
Malva Pudding
Spongy Apricot Pudding with Cardamom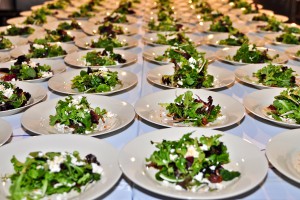 ---
50 Shades of Grey Birthday Party
November 16, 2012
erotic
fictional book manifest into a birthday party
celebration?
handcuffs, corsets, and forbidden fruit skewers
Anastasia and Christian's erotic love came to life last weekend in Manhattan Beach with our
50 Shades of Grey themed 50th Birthday Party.
recipe
for making your very own 50 Shades of Grey themed Birthday Party.
Ingredients:
The Venue —–
Stark white setting with lighting only by candles scattered throughout the room
The Buffet —–
"Grey" theme, with various grey and black lace linens and a fishnet overlay
Tables and serving trays displaying black leather gloves, handcuffs, zip ties, and red roses
The Decorations —–
Centerpieces
Small trees, revealing leather whips, hand cuffs, zip ties, and Mr. Grey's ties on its bare branches
Servers
In "sexy attire", including corsets, fishnet stockings, and high heels,  all cloaked in red feathered masks, serving trays and rolling carts full of sensual goodies
The Food —–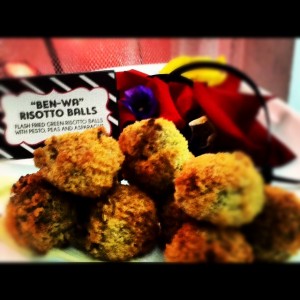 Hos D'oeuvres –
Flash Fried Green Risotto Balls with Pesto, Peas, and Asparagus
"Forbidden Fruit" Skewers
Fresh Strawberry with Mozzarella, Mint, & Balsamic Glaze
"Wrap your Lips around a Stick"
Maple Pecan Chicken Skewers with Spicy Maple Dip
"Lip-Biting" Asparagus Spears with Hollandaise
"Picking up a spear of asparagus, I gaze at him and bite my lip"
Dangerous Deserts –
Assorted cupcakes with an edible 50 shades image or "grey" frosting
We hope your party turns as many heads as ours did.
---