Hand Crafted Zinc Cafe Tables
May 28, 2014
We get so many inquiries about our beautiful zinc cafe tables. They were hand-crafted for us by Bastille Metal Works.  We love the warmth the zinc brings to the room rather than steel. We love the little brass nail details and the added depth to the table top. Thank you, thank you Bastille Metal Works!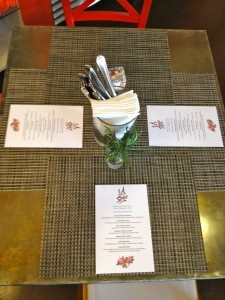 ---
A Gluten Free, Sugar Free Baby Shower?
August 7, 2013
Yes, it is possible!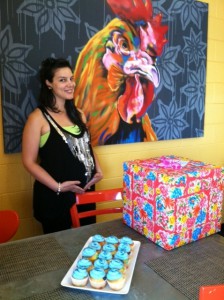 We catered a baby shower for our cafe manager Chiara last weekend, who is gluten and sugar free.


Although it sounds like an impossible trio, having a baby shower with only gluten and sugar free options is possible!

We made Chiara a superhero themed watermelon and fruit cake. The only ingredient? Fruit!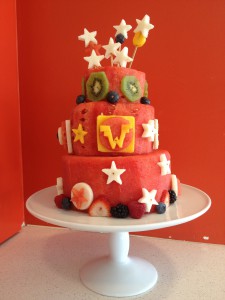 We also served owl chocolate cupcakes to align with the baby shower's owl theme. Gluten free flour was the base, and no refined sugar was in the cupcake or frosting, only agave. Using nuts to create the owl face was a perfect gluten and sugar free addition!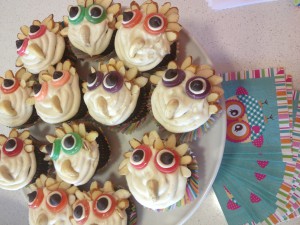 Add some delicious gluten and sugar free small bites, and you've got yourself a party.
---
Happy National IPA Day!
August 1, 2013


August 1 is National IPA Day!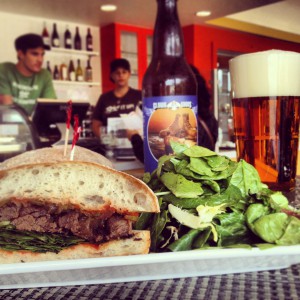 What is your take on India Pale Ale beers?




According to the official site for IPA Beer, it's name does not come from its origin, but rather its history. The first mention of  IPA's existence was through supplier George Hodgson, who sold his IPA beer primarily to  British troops working for the  East India Trading Company in India in the beginning of the 1800s, hence it's name.




The beer is golden in color and bitter in taste. IPAs have a high concentration of hops, aiding their bitter (and some say aquired) taste.




Because of its bitter taste,  we recommend pairing the beer with rich, spicy, and meaty flavors, such as  our LA Spice Signature Sandwich, House Ground 8oz All Beef Burger, Open Face Pulled Pork Sandwich, and our Ariba Chilaquiles (if you feel bold enough to have beer with breakfast!).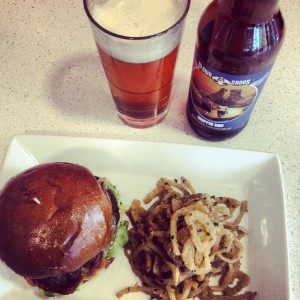 So what IPA beers do we offer at LA Spice Cafe?



We serve Clown Shoes Muffin Top IPA, a Beligan Tripel-styled beer, and a Uinta Brewing Hop Notch IPA. Stay tuned for more info on these fantastic beers!

---
Our Cafe's Zinc Tables
May 16, 2013
From our recent cafe opening until now, there is one question we keep getting from our customers.


"Where did you get those tables?" 


Our response? 


A company that specializes in custom cast zinc and pewter countertops, Bastille Metal Works transforms "traditional metal into a new art form".


Our zinc tables had quite the process. Bastille's architectural team worked with us to hand-choose the edge, profile, metal, and finish of the table. Then, the artisans completed the project and created our design by hand. 


We decided on zinc for our cafe tables. Why zinc and not aluminum or steel? 


Zinc is a fascinating material. It is a living alloy and natural part of the Earth's crust, responding easily to its environment. According to Bastille Metal Works, "zinc goes through a natural oxidation process and forms a unique tarnish with age called patina."


Our tables have a unique metallic look from the blend of the rich brown-grey shades from patina and the blue-grey hues of zinc. 


We love how our tables feel to the touch. Zinc is a warmer material, assimilating easily to the surrounding temperature. Its softness is more inviting to the touch than its cold steel or aluminum counterparts. Come touch our tables, you'll see what we mean.


Zinc tables are not new to the cafe scene. Tables made from zinc were originally used in Parisian Bistros and is a centuries-old French craft. 


In our cafe, we have paired their unique, contemporary look with wooden bar stools and brightly painted orange wooden chairs to give a playful look, a perfect balance with the industrial-looking zinc. Our tablemats have metallic hues as well, highlighting the zinc and patina hues. 


---