African Theme Catering Event
---
When it came down to choosing a theme for a dinner and cocktail reception for a leading furniture design and production company, we looked no further than the event's location for theme inspiration.
Since the African Mammal Hall at the Natural History Museum was the location of this Annual Awards Gala, we decided on an African theme.
The Setting –
An impressive wall-to-wall diorama of African elephants and animal exhibits surrounded the seated guests at the NHM venue.
Our servers were dressed as safari guides, wearing khaki pants, white polo shirts, and pith helmets.
We used outdoor elements such as bamboo leaves, flowers, and wood for our appetizer plates and table set design.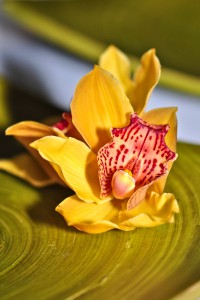 The Menu –
We offered an eclectic African themed menu, highlighting the delicious cuisines from North, East, West, and South Africa.
Our menu highlighted common herbs, spices, produce, and meats from Africa, such as orange, saffron, mint, mango, ostrich, cous cous, moroccan spices, and yogurt.
Tray-Passed Hors D' Oeuvres – 5 Flavors
Moroccan Scented Grilled Meatballs with Paprika, Garlic, Onion, Mint, and Cool Yogurt
Cucumber Cones with Spicy Dungeness Crab Salad, Saffron Crème
Durban Samosas with Curried Potato & Pea Crunchy Pastry Triangles Served with a Mango Atchar
Curried Coconut Chicken Salad in Phyllo Cups
Flash Fried Pampoenkoekies (Pumpkin Fritters) with Spicy Mango Salsa
Sit Down Plated Dinner
1st Course – Salad (Pre-Set)
Medjool Date and Mixed Green Salad with Feta Cheese, Toasted Marcona Almonds, Pomegranate Molassas And Honey Dressing
2nd Course – Main Entree
Moroccan Chicken Tagine: Braised Chicken with Saffron, Preserved Lemon, Garlic, and Olives with Steamed Citrus Cous Cous
Oven baked Sea Bass in Aromatic Chermoula Sauce with Baked Potatoes, Bell Peppers and Tomatoes
2nd Course – Vegetarian Main Entree
Vegetable Barley Cous Cous
Squash, Cabbage, Turnips, Chick Peas, Almonds and Fiery Harissa Spice Mix
3rd Course – Dessert
Malva Pudding
Spongy Apricot Pudding with Cardamom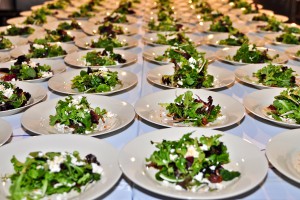 ---
---