50 Shades of Grey Birthday Party
---
erotic
fictional book manifest into a birthday party
celebration?
handcuffs, corsets, and forbidden fruit skewers
Anastasia and Christian's erotic love came to life last weekend in Manhattan Beach with our
50 Shades of Grey themed 50th Birthday Party.
recipe
for making your very own 50 Shades of Grey themed Birthday Party.
Ingredients:
The Venue —–
Stark white setting with lighting only by candles scattered throughout the room
The Buffet —–
"Grey" theme, with various grey and black lace linens and a fishnet overlay
Tables and serving trays displaying black leather gloves, handcuffs, zip ties, and red roses
The Decorations —–
Centerpieces
Small trees, revealing leather whips, hand cuffs, zip ties, and Mr. Grey's ties on its bare branches
Servers
In "sexy attire", including corsets, fishnet stockings, and high heels,  all cloaked in red feathered masks, serving trays and rolling carts full of sensual goodies
The Food —–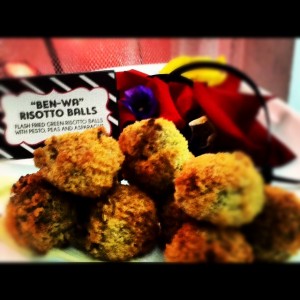 Hos D'oeuvres –
Flash Fried Green Risotto Balls with Pesto, Peas, and Asparagus
"Forbidden Fruit" Skewers
Fresh Strawberry with Mozzarella, Mint, & Balsamic Glaze
"Wrap your Lips around a Stick"
Maple Pecan Chicken Skewers with Spicy Maple Dip
"Lip-Biting" Asparagus Spears with Hollandaise
"Picking up a spear of asparagus, I gaze at him and bite my lip"
Dangerous Deserts –
Assorted cupcakes with an edible 50 shades image or "grey" frosting
We hope your party turns as many heads as ours did.
---
---