Summer Peach Party
May 29, 2013
 

 It's that time of year again: stone fruits are in season, and we're crazy about peaches.   


From their alluring sweet smell, their gorgeous hue, to their candied taste, they are the quintessential summer fruit.   


Their triple-threat qualities are our prime inspiration for a summer party theme.   


Summer-inspired, youthful, airy, and feminine, the event is decorated in peach, yellow, rose, and cream. The peaches are the centerpieces in the decor, displayed in baskets, glass bowls, or vases, giving off their appetizing sweet smell. The event takes place outdoors, decorated by summer's bounty of peach-colored flowers and greenery.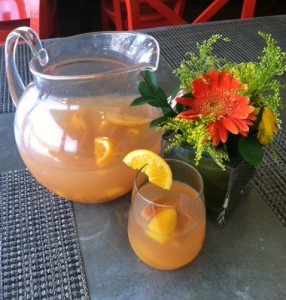 Sample Menu:
 
 LA Spice Cafe's special Summertime Peach Sangria
Sugared pureed fresh and luscious white peaches with Riesling, triple sec, peach schnapps, coconut syrup, and fresh vanilla bean  


Peach Caprese
Layered sliced freestone peaches, burrata cheese, prosciutto, and basil drizzled with olive oil and balsamic vinegar   


Grilled Peaches
Halved yellow peaches, served alongside honey grilled salmon or chicken   


Peaches and Cream
Sliced donut peaches and homemade cream, served in a martini glass   


---
Our Cafe's Zinc Tables
May 16, 2013
From our recent cafe opening until now, there is one question we keep getting from our customers.


"Where did you get those tables?" 


Our response? 


A company that specializes in custom cast zinc and pewter countertops, Bastille Metal Works transforms "traditional metal into a new art form".


Our zinc tables had quite the process. Bastille's architectural team worked with us to hand-choose the edge, profile, metal, and finish of the table. Then, the artisans completed the project and created our design by hand. 


We decided on zinc for our cafe tables. Why zinc and not aluminum or steel? 


Zinc is a fascinating material. It is a living alloy and natural part of the Earth's crust, responding easily to its environment. According to Bastille Metal Works, "zinc goes through a natural oxidation process and forms a unique tarnish with age called patina."


Our tables have a unique metallic look from the blend of the rich brown-grey shades from patina and the blue-grey hues of zinc. 


We love how our tables feel to the touch. Zinc is a warmer material, assimilating easily to the surrounding temperature. Its softness is more inviting to the touch than its cold steel or aluminum counterparts. Come touch our tables, you'll see what we mean.


Zinc tables are not new to the cafe scene. Tables made from zinc were originally used in Parisian Bistros and is a centuries-old French craft. 


In our cafe, we have paired their unique, contemporary look with wooden bar stools and brightly painted orange wooden chairs to give a playful look, a perfect balance with the industrial-looking zinc. Our tablemats have metallic hues as well, highlighting the zinc and patina hues. 


---
African Theme Catering Event
May 3, 2013
When it came down to choosing a theme for a dinner and cocktail reception for a leading furniture design and production company, we looked no further than the event's location for theme inspiration.
Since the African Mammal Hall at the Natural History Museum was the location of this Annual Awards Gala, we decided on an African theme.
The Setting –
An impressive wall-to-wall diorama of African elephants and animal exhibits surrounded the seated guests at the NHM venue.
Our servers were dressed as safari guides, wearing khaki pants, white polo shirts, and pith helmets.
We used outdoor elements such as bamboo leaves, flowers, and wood for our appetizer plates and table set design.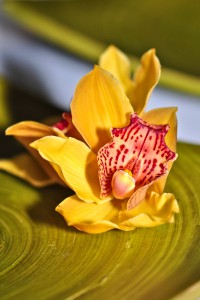 The Menu –
We offered an eclectic African themed menu, highlighting the delicious cuisines from North, East, West, and South Africa.
Our menu highlighted common herbs, spices, produce, and meats from Africa, such as orange, saffron, mint, mango, ostrich, cous cous, moroccan spices, and yogurt.
Tray-Passed Hors D' Oeuvres – 5 Flavors
Moroccan Scented Grilled Meatballs with Paprika, Garlic, Onion, Mint, and Cool Yogurt
Cucumber Cones with Spicy Dungeness Crab Salad, Saffron Crème
Durban Samosas with Curried Potato & Pea Crunchy Pastry Triangles Served with a Mango Atchar
Curried Coconut Chicken Salad in Phyllo Cups
Flash Fried Pampoenkoekies (Pumpkin Fritters) with Spicy Mango Salsa
Sit Down Plated Dinner
1st Course – Salad (Pre-Set)
Medjool Date and Mixed Green Salad with Feta Cheese, Toasted Marcona Almonds, Pomegranate Molassas And Honey Dressing
2nd Course – Main Entree
Moroccan Chicken Tagine: Braised Chicken with Saffron, Preserved Lemon, Garlic, and Olives with Steamed Citrus Cous Cous
Oven baked Sea Bass in Aromatic Chermoula Sauce with Baked Potatoes, Bell Peppers and Tomatoes
2nd Course – Vegetarian Main Entree
Vegetable Barley Cous Cous
Squash, Cabbage, Turnips, Chick Peas, Almonds and Fiery Harissa Spice Mix
3rd Course – Dessert
Malva Pudding
Spongy Apricot Pudding with Cardamom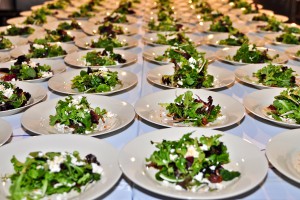 ---